My Kung Fu Instructor - Sifu Cooper
Certificates, Medals, Trophies
Silver medal advanced women's empty hand - ICMAC Orlando 6.30.18. An honor to perform in the evening Masters Demonstration as well with so many incredible martial artists!
4.7.18 Ocean State Grand Nationals - Krane Tournament/NASKA - placed in black belt divisions for traditional weapons and empty hand form. So many amazing competitors! It was inspiring to be there and see them and to cheer each other on!
October 1, 2017. Blessed to take Gold Medal for Advanced Women's Empty Hand Forms, Silver Medal for Broadsword Form, Bronze for Tai Chi at International Chinese Martial Arts Championship in Boston.
ICMAC Tournament Boston 10.1.17
Gold Medal Adv. Empty Hand
Silver
Medal Adv. Weapons Forms
Bronze Medal Tai Chi
Nice to pose for photo when it's over!
Saturday, July 1, 2017
International Chinese Martial Arts Championship in Orlando, FL
Bronze Medal in Advanced Women's Kung Fu Forms; Silver Medal in Advanced Women's Tai Chi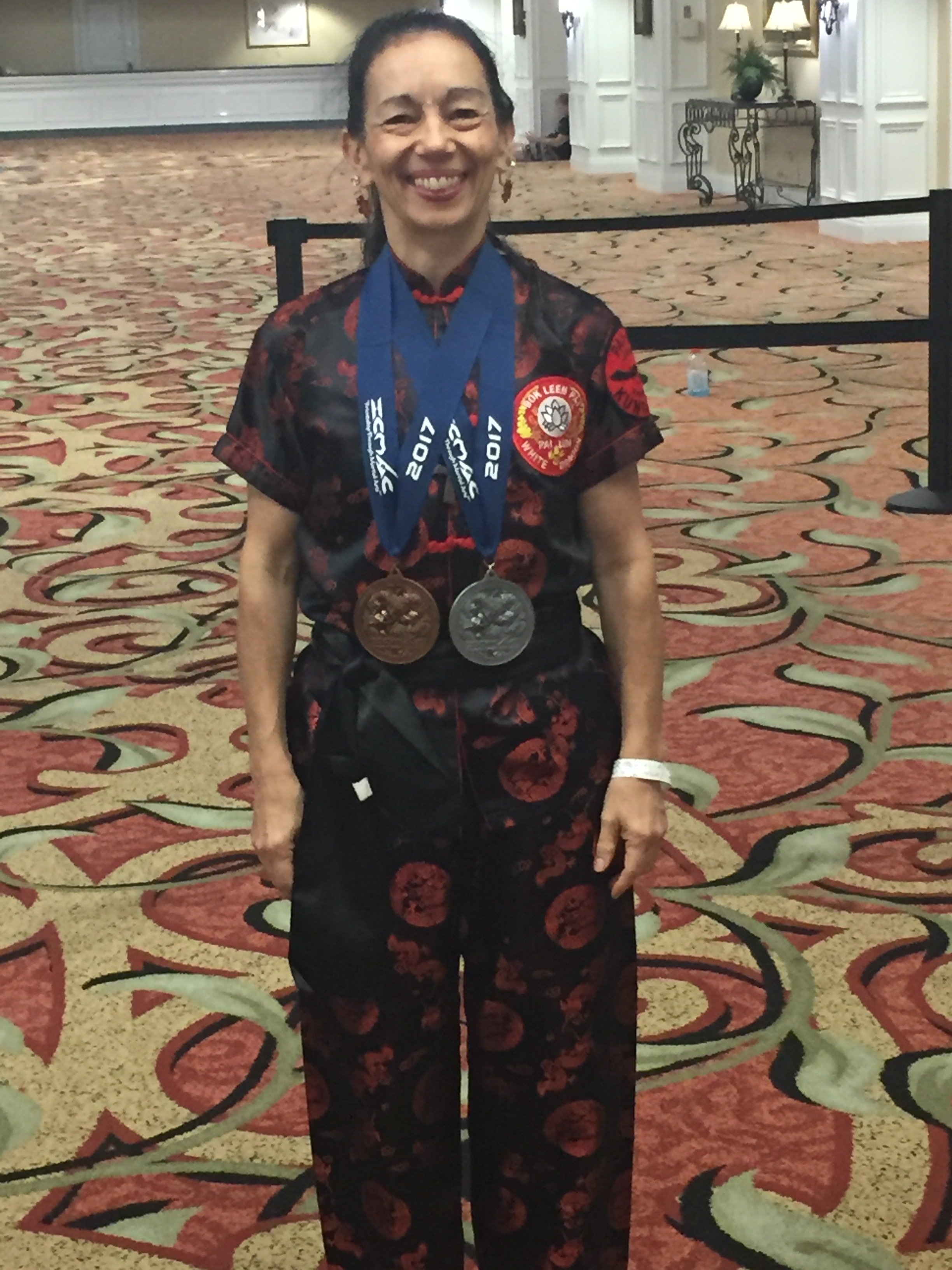 Met so many talented martial artists and great people in Orlando. The competitions were followed by a
stunning performance of demonstrators from martial arts schools around the world!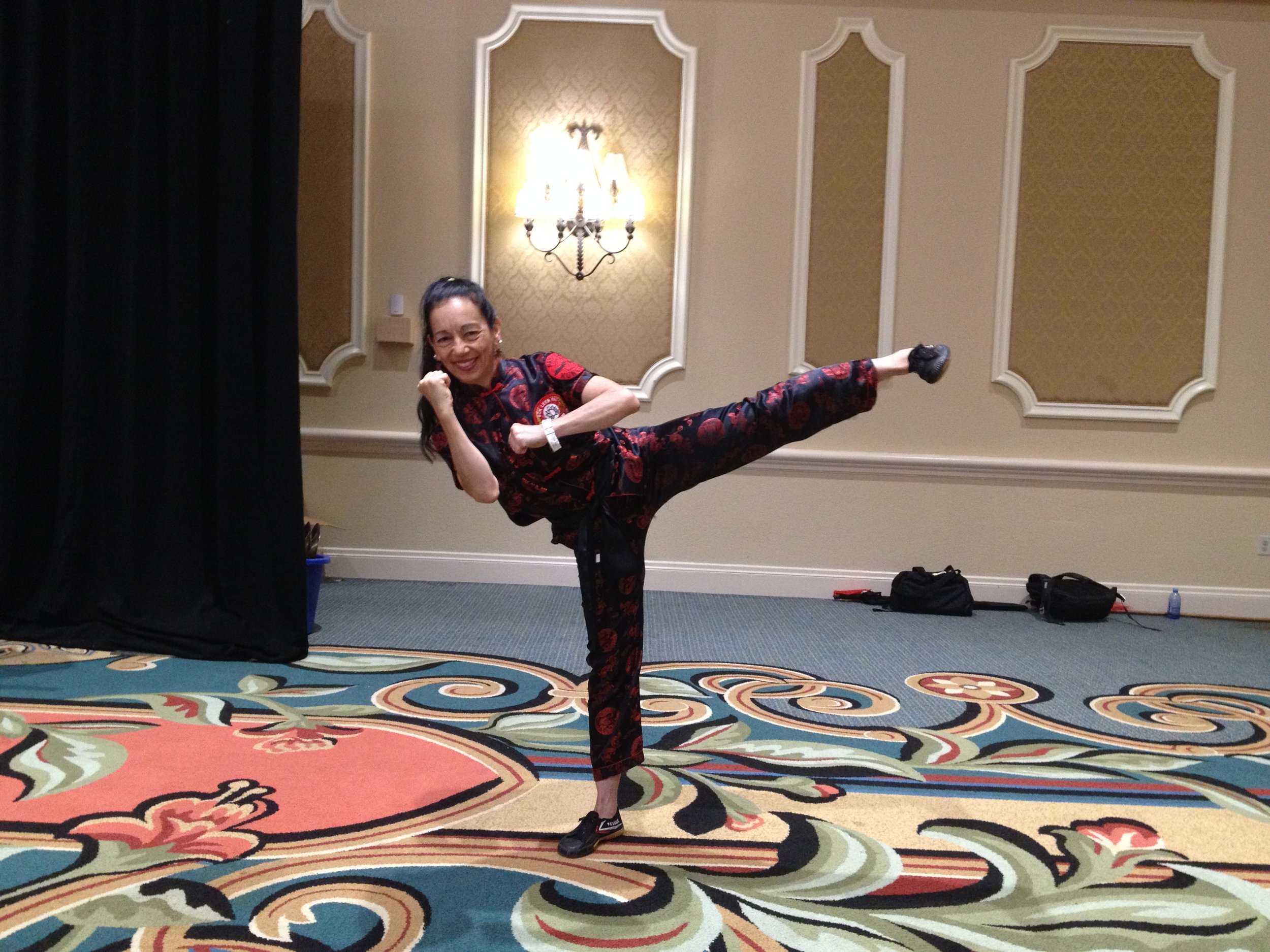 Just practicing that side kick to warm up for my event
Saturday, July 1, 2017
Sifu Divine Marshall and Sifu Sharon at ICMAC Tournament Orlando, FL
THE JOY OF TEAMING UP WITH MY WHITE DRAGON FIST PAI LUM NORTHEAST DRAGONS COLLEAUGE
Nov. 4, 2017. Power Health Tour at Boys & Girls Club of Dorchester. Go Florence!! She can really throw those punches so much that I need the red and blue striking pad to deflect!
Power Health Tour participant Rodney Thurmond. He trains in Karate and, after one Kung Fu lesson, he's ready to go!
Saturday, June 11th, 2016
World Martial Arts Federation Karate/Kung Fu Tournament
1st Place in Advance Weapons
Date: Nov. 11, 2016
Place: Medford High School
Details: WMAF Karate/Kung Fu Tournament. Sharon 2d place Advanced Kung Fu Weapons and Forms. See WMAF Fall Tournament photos page: http://thewmaf.org/page2/page25/index.html. (Sifu Sharon 4th down on the left)
Outer Tiger for WMAF Tournament 6.11.16: 2d place Advanced Empty Hand Kung Fu; Plum Sword Form: 1st Place Advanced Kung Fu Weapons